April 2007 Work Party Photos

First... I have to begin our work party photos with a huge "Thank You" to Fred and Mary Ann Nardei.
Fred and Mary Ann prepared most of our meals as they had done for our October '07 work party meals.
Examples of what we enjoyed from them were: chicken breasts, chilli, spaghetti and meat balls, chicken
and rice soup, cabbage rolls, and numerous cakes, cookies, and candy. Our only regret, if one wants to
accept it as that... Was that Fred Nardei wasn't able to attend! Fred injured his knee playing golf that
week before the work party and although he wasn't able to attend... he still drove to Cincinnati, Ohio to
to hook up with Fred Raleigh and see that their preparations still made it to our work party! Although
some of us did miss Fred, somebody, whom I can not mention... for fear of my life... and possibly my job,
stated that "Fred didn't need to attend, as long as he sends the food next time!"

Really, everyone wishes Fred a healthy recovery on his knee and our work party members would like to
see him at the next work party, which is scheduled for September 8th to the 15th... Get Well Soon, FRED!

Others sending food were: John Miller's Wife, Jean,... apple pies; Barry Shugarts's wife... cakes, and
others which I can not remember, but should be included... and mentioned here.


Food Photos: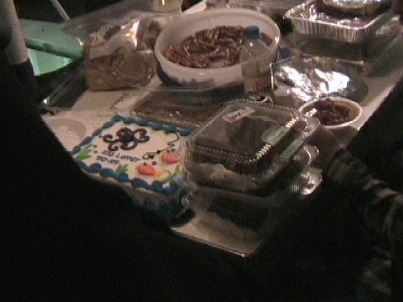 Just a few of the deserts people sent to the work party.





Not sure who prepared this cake...





We're not too sure why someone sent these...
the cake was good, but the icing stunk!





I believe there were five of them, Right... Barry!





Don't know what Fred Raleigh was saying, but
I believe it was "Come and get 'er while it's hot!"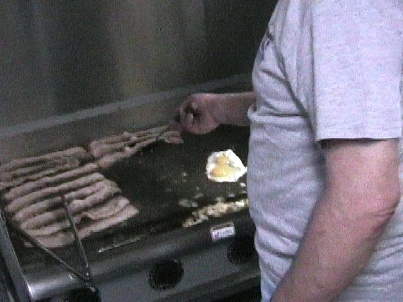 Fred served up peppered bacon, eggs to order,
and toast for breakfast one morning.
There was plenty of coffee and juice, also.




Looks like the eggs are 'bout done!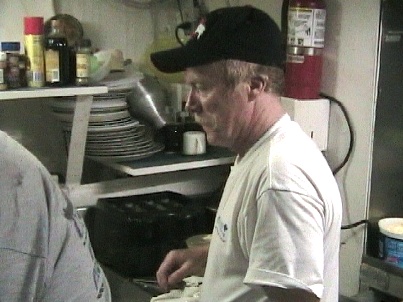 "A.J." Tarquino, filling in for Fred Nardei,
was Fred Raleigh's striker this time...
A machinist mate by rating, AJ... and Fred did a
fine job keeping the crew well fed and happy.