Carl J. Rieman
At the outbreak of World War II, Carl Rieman was attending the University of Martyland. He chose to enlist in the V-5 program and trained to become a naval aviator, graduating as a fighter pilot from Corpus Christi, Texas.
He flew in the Navy on and off active duty for twenty five years and topped this off with a 5 year tour in the Air Force.
Upon retirement from the armed services, he worked for ten years in the Naval Air Systems Command and was project manager for the assault helicopters (AH-1J Cobra gunship) used by the Marine Corps in Vietnam.
Carl is presently a building consultant and thoroughly enjoying his family of 12 children, fifty grandchildren, and 18 great-children (with more on the way).
---
An Oral History by Carl Rieman
16 April 1945
The next best day for me was again when I was on Target CAP. I received a vector to intercept a raid coming in over a picket ship (destroyer USS Laffey) northwest of Okinawa. My 6th Division this time was Collier, Ryan a new replacement - Dean and myself.
In the raid, there were about forty planes…Vals, Kates, Zeros and I don't know what else, but there was a bunch. I made a run on a Val and overran him and Dick came right in behind me and nailed him. I pulled off and ran smack into another Val and one burst and he blew all to pieces. There were so many enemy aircraft that as a Division, we got separated. I came across a Kate, gave him a full long burst and he rolled over and went straight into the water.
All this time, the Destroyer Laffey was really taking a beating. We were the first division to intercept and we did scatter them. About twenty minutes later, F6F's and F4U's came from all over and they were knocking planes down faster than you could count.
I took another Kate under fire, running out of ammo, but not before I killed his engine. I was following him down to watch him hit the water, and while still at about 500 feet, a F4U came in on a side run and blew him up right in front of me. I should have, but I did not claim the kill.
I climbed up looking for the guys and found Dick Collier with a blown gas tank dangling under his wing. We decided to land at Naha, so I followed him in and we pulled off the blown tank. We then took off and returned to the ship.
---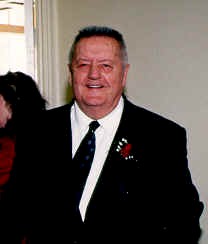 Carl Rieman
1999