Obituary of Edward A. Kycia
Courtesy of his son, John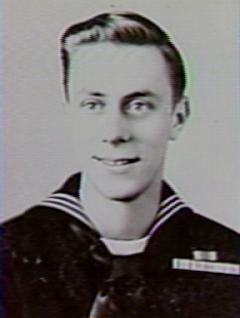 October 26, 1925 - November 7, 2011

Combat Presidential American World War II Asiatic-Pacific Philippine
Action Medal Unit Citation Theater Medal Victory Medal Campaign Medal Liberation Medal


Edward Andrew

Kycia

of Old Wethersfield and Black Point Beach Club and loving husband to Helen Aszklar

Kycia

for 61 years passed away peacefully on Monday November 7, 2011. Born in Hartford to Joseph and Prakseda (Buda)

Kycia

on October 26, 1925. Ed graduated from Hartford High School Class of 1943. He shortly thereafter entered the US Navy and served aboard the Naval Destroyer USS Laffey in the Pacific Theater. He was aboard the Laffey, (The Ship That Wouldn't Die), while it successfully repelled the most extensive Japanese Kamikaze air attack ever mounted against any US warship. He was awarded the

Combat Action Ribbon, Presidential Unit Citation, American Theater Medal, World War II Victory Medal, Asiatic-Pacific Campaign Medal, and the Philippine Liberation Ribbon.





Returning from Naval service Ed continued to work for the US Government for 40 years retiring in 1985. He was an avid Red Sox fan and Yankee hater. He was a member of the DAV Chapter 12, Tin Can Sailors, NARFE, Navy Memorial & The Polish National Home, and the USS Laffey Association.

Ed is survived by his wife Helen; and their children Mary Ann Bello and her husband Charles of Alpharetta, GA., Ed Kycia and his wife Mary and John Kycia and his wife Diana all of West Hartford. He is also the proud grandfather to Tyler and Kathryn Bello, Maggie and Danny Kycia, and Jay and Matt Kycia. Besides his immediate family, Ed leaves two brothers and their spouses Mike and Dotty Kycia, and Julian and Jean Kycia, as well as many nieces and nephews.

The funeral procession will be Friday, November 11, 2011, 10:15 from Taylor & Modeen Funeral Home, 136 South Main Street, West Hartford followed at 11 a.m. by Mass of Christian Burial to be celebrated at the Church of Saint Peter Claver, 47 Pleasant Street, West Hartford.

Burial with military honors will be held at Village Cemetery, Old Wethersfield. Family and friends will be received at the funeral home Thursday, November 10, 2011 from 4 – 7 p.m. Donations in Ed's memory may be made to Xavier High School, (Advancement Office), 181 Randolph Road Middletown, CT. 06457. For directions and online condolences, please visit www.taylorandmodeen.com.






The Dash Poem
by Linda Ellis
I read of a man who stood to speak;
At the funeral of a friend.
He referred to the dates on her tombstone;
From the beginning to the end.
He noted that first came the date of her birth;
And spoke of the following date with tears.
But he said what mattered most of all;
Was the dash between those years.
For that dash represents all the time;
That she spent alive on earth.
And now only those who loved her;
Know what that little line is worth.
For it matters not, how much we own,
The cars, the house, the cash.
What matters is how we live and love;
And how we spend our dash.
So think about this long and hard;
Are there things you'd like to change?
For you never know how much time is left;
That can still be rearranged.
If we could just slow down enough;
To consider what's true and real.
And always try to understand;
The way other people feel.
And be less quick to anger;
And show appreciation more.
And love the people in our lives;
Like we've never loved before.
If we treat each other with respect,
And more often wear a smile;
Remembering that this special dash,
Might only last a little while.
So when your eulogy is being read,
With your life's actions to rehash;
Would you be proud of the things they say;
About how you spent your dash?
Amazing!