Obituary of
Wilbert C. Gauding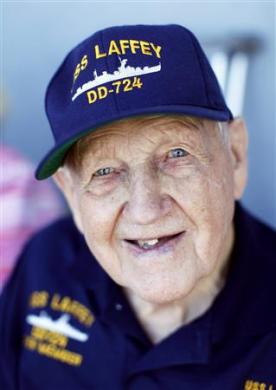 April 30, 1920 - March 18, 2014
Wilbert C. Gauding, 93 years of age, a lifelong resident of Ravenna, Ohio passed away Tuesday March 18, 2014 at Kent Ridge at Golden Pond in Kent, Ohio. He was born April 30, 1920 in Ravenna, Ohio the son of the late Fred and Francis (Schindler) Gauding.

Wilbert worked for Lampson and Sessions (which later became RB&W) in Kent for 44 years as a machinist until his retirement in 1982. Wilbert was a World War II Navy Veteran serving on the USS Laffey. On April 16, 1945, Wilbert was onboard the USS Laffey when it was attacked by 22 kamikaze suicide planes and 4 bombs. Because the Laffey survived, it has been the nickname "The ship that would not die." As an original plank member of the USS Laffey, Wilbert spent many trips at Patriot's Point in Charleston, South Carolina where the Laffey is on display. He would often be an unofficial tour guide, giving visitors the inside view of his ship.

Wilbert was an avid fisherman and traveler, starting in 1947 with yearly trips to Lake Nipissing, Canada for fishing with family and friends. He also liked to visit Lake Erie. He continued his trips with family to the Outer Banks and Charleston, South Carolina through the last year of his life.
On May 8, 1946 he married Marian (Timothy) Gauding who preceded him in death on February 17, 2000 after 54 years of marriage. Also preceding was his brother Sylvester. He is survived by his daughter, Cheryl (Joe) Cettomai of Ravenna, son, Jeff (Kathi) Gauding of Ravenna, granddaughter, Julie (Marcus) Cordonnier of Sullivan, Ohio, and great grandchildren, Eric and Molly.

Cremation has taken place and a private service is being held. Donations can be made to the USS Laffey Association Work Party Fund, 2951 Colchester Road, Abingdon, Maryland 21009. His legacy to his children isn't words or possessions, but an unspoken treasure- the treasure of his example as a man, and a father, grandfather, and great grandfather. Arrangements are by the Green Family Funeral Home & Crematory Service in Mantua.

His obituary may be viewed at www.greenfamilyfuneralhome.com