Taps: John B. Evans
Courtesy of his son,
Richard J. Evans, Ph.D.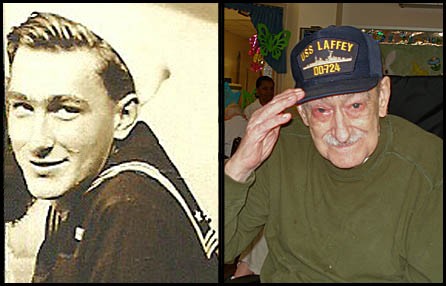 It is with great sadness that I must inform you that my father, John B Evans, passed away quietly in his sleep on June 4, 2011 at the NJ Veteran's Home in Paramus NJ. He had been a lifelong member of the association and contributor to the restoration of the ship as it underwent the hull repairs. He has had photos and artwork of the Laffey placed up in a variety of places throughout his house and at his room in the Veteran's home - she was never out of his sights.

There is no service - only a private family memorial followed by interment at the NJ Veteran's Cemetery.

We have asked that in lieu of flowers, any donations be made to the NJ Veterans Home in Paramus, NJ.

Richard J. Evans, Ph.D.